As December fell upon us here in SEPA, I was unable to get sheet metal work done. So, I turned my attention to the inside, ie. upholstery. Problem was, I knew very little about upholstery, or trim work as it is called.
A few options exist for pre-made seat covers from TMI, but that limited me to factory vinyl prints. My son wanted a bit more of a custom look… he wanted blue seats with a white racing stripe. Odd request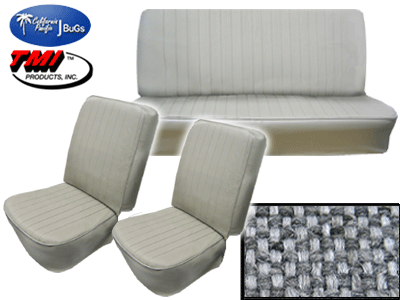 for a vehicle that will be lucky to see 60 mph.
I researched automotive upholstery, and found this book Automotive Upholstery Handbook
from Amazon.com… It was very simple to understand and implement. But I needed a heavy-duty sewing machine… back to Amazon (they love me). As luck would have it, an Amazon lightening deal listed the SINGER 4423 Heavy Duty Model Sewing Machine With Metal Interior Frame and Stainless Steel Bedplate
for $99 with free shipping. Even with the mediocre reviews, I figured it'd get er' done.
Then on to the front seats… I found it easiest to disassemble the existing seams and make new panels from the old seats' as a template. One surprise I found during dis-assembly of the old seat seams, was insects. Namely stinkbugs:
It seems a few found a cozy nook to stow away into for winter. As I opened up their home they decided to invade mine… but that's a whole nother' blog…
As per the book's guidance, I shrunk my measurements by 1″ to compensate for the old fabric's stretching. Once the panels were all complete, I simply binded them with a double recessed hidden stitch with white piping for accent. Damn, I sounded like a woman there didn't I?
After the seat fabric was done, I cleaned up the frames, applied Corroseal, and painted.
Once dry, added seat foam and applied the new covers.
The bottom edges were hog ringed to the frame for a tight fit.